Fins Bois 28 year old Cognac Sponge Edition No.5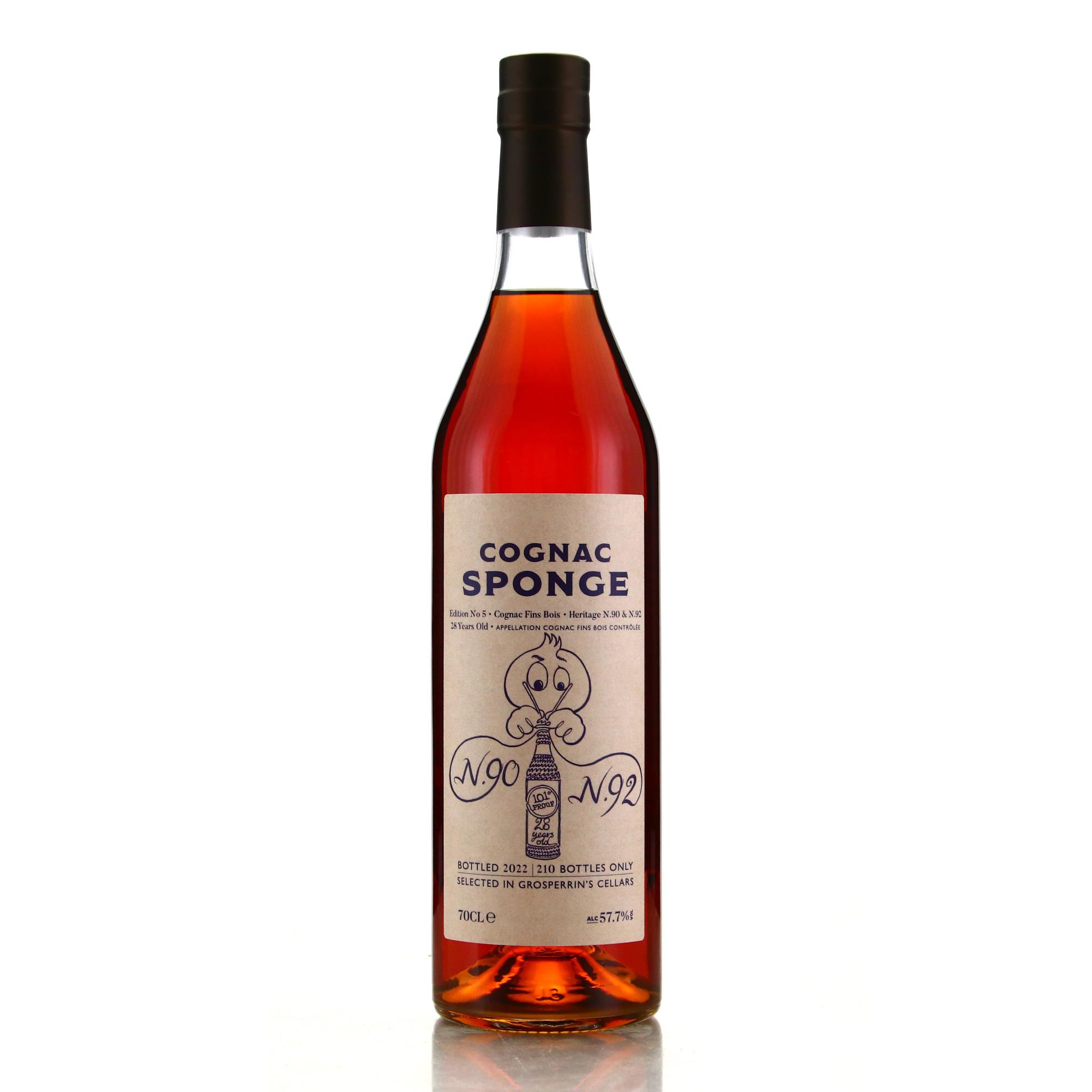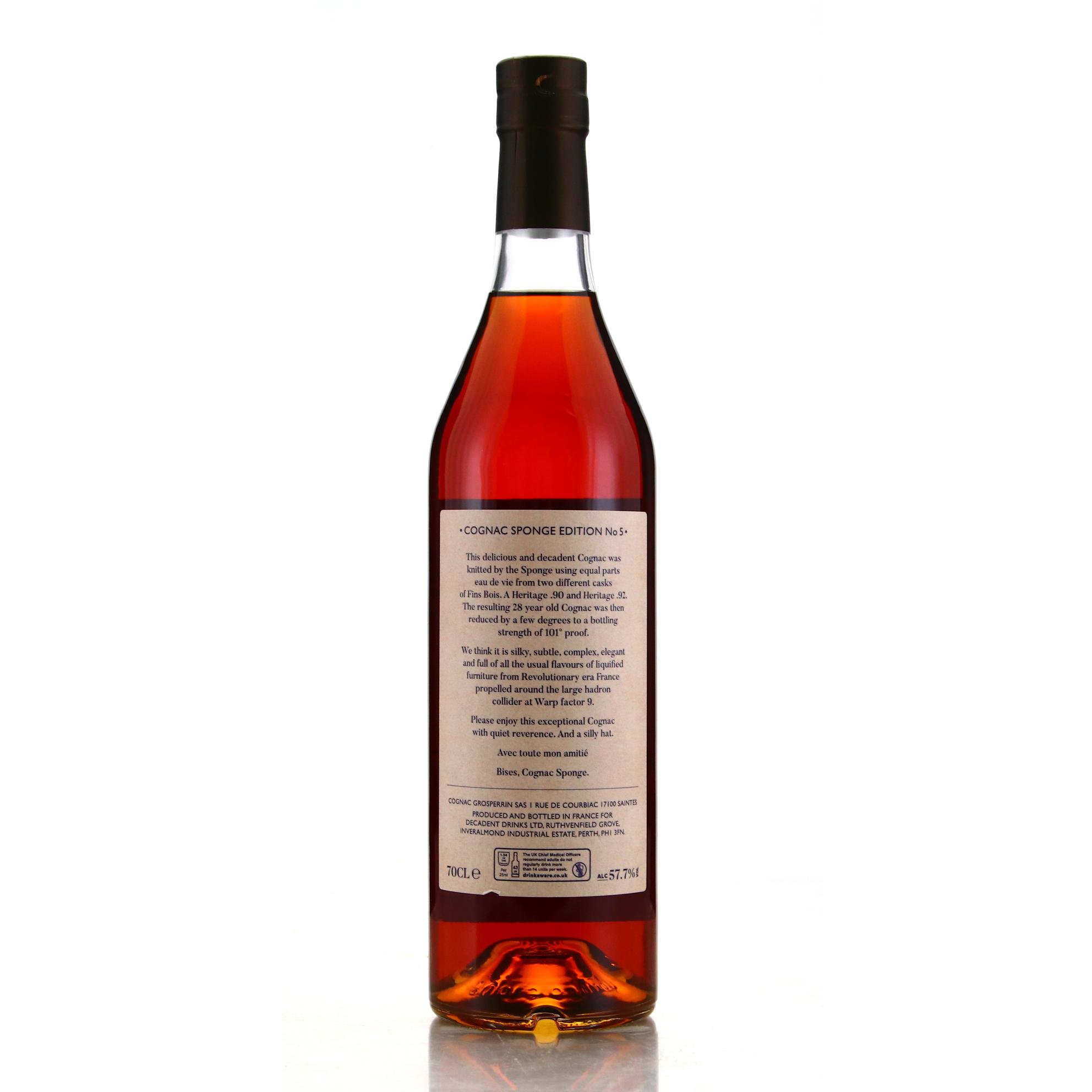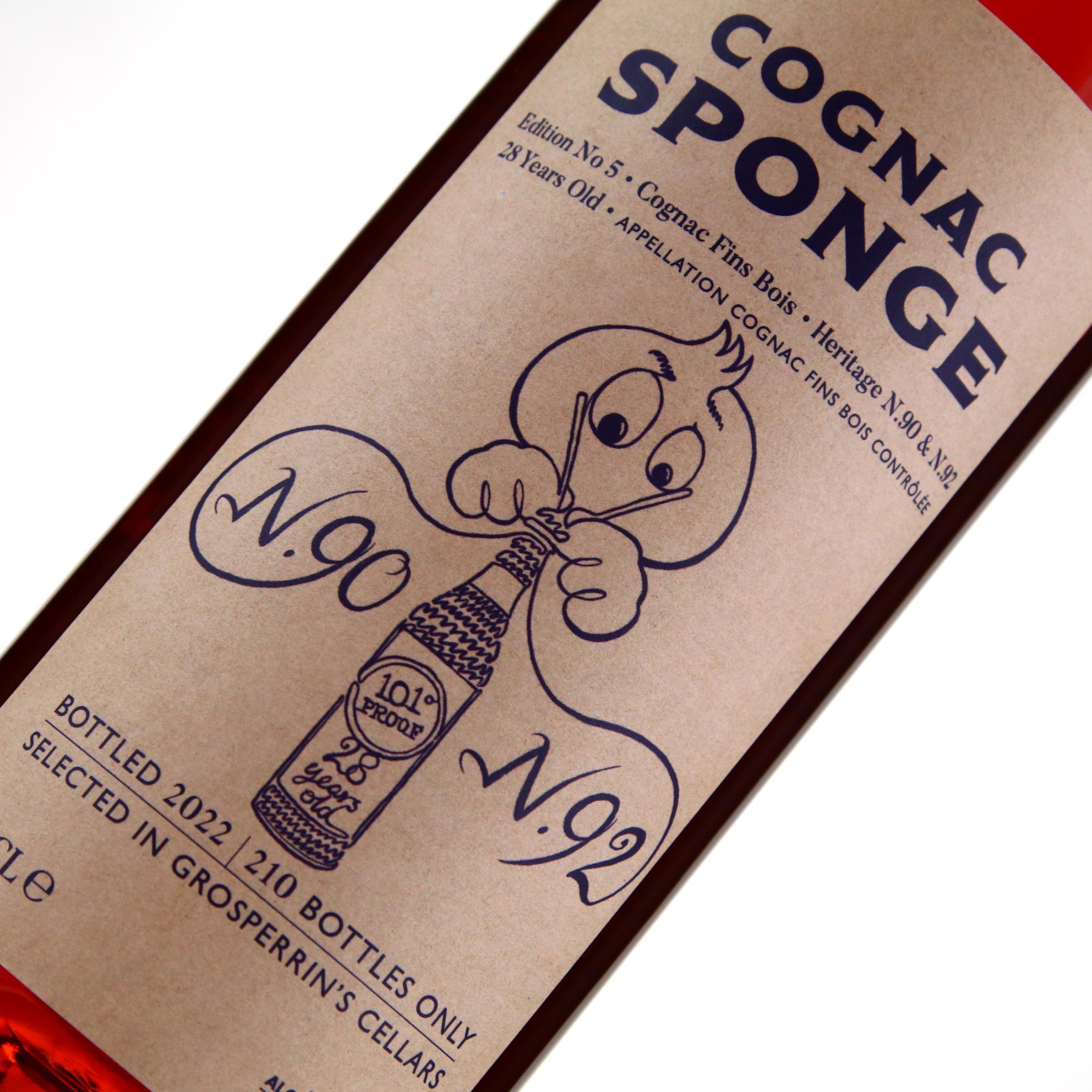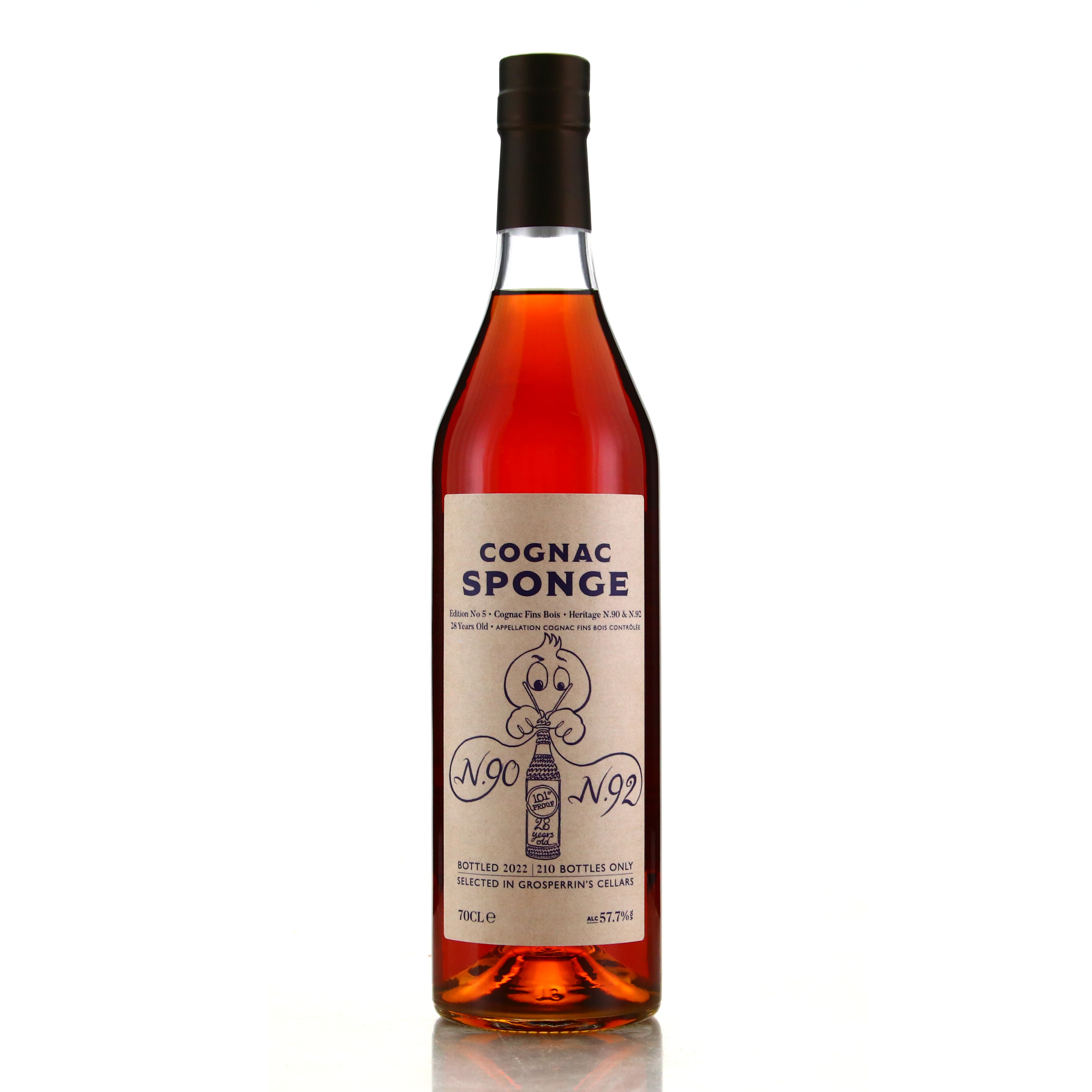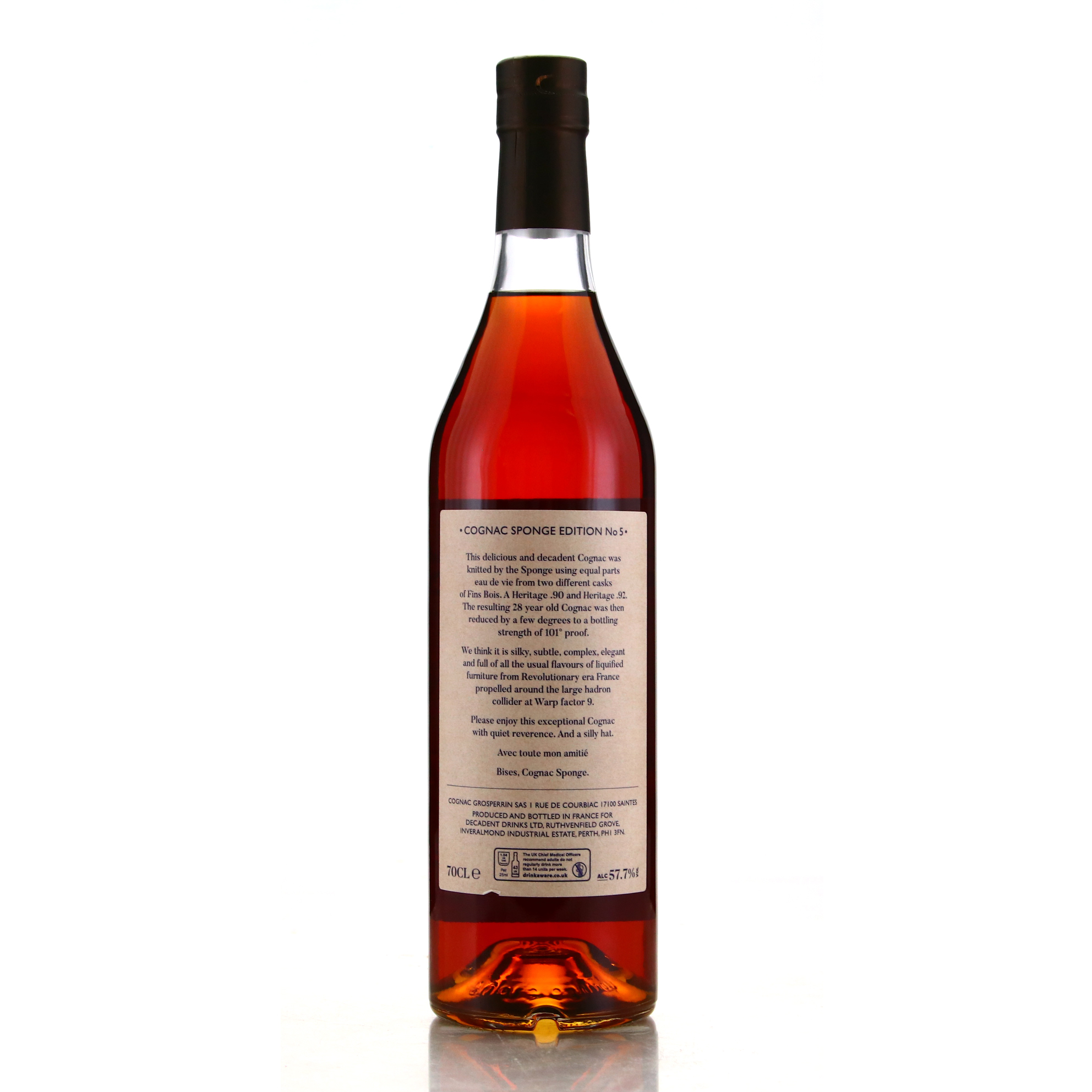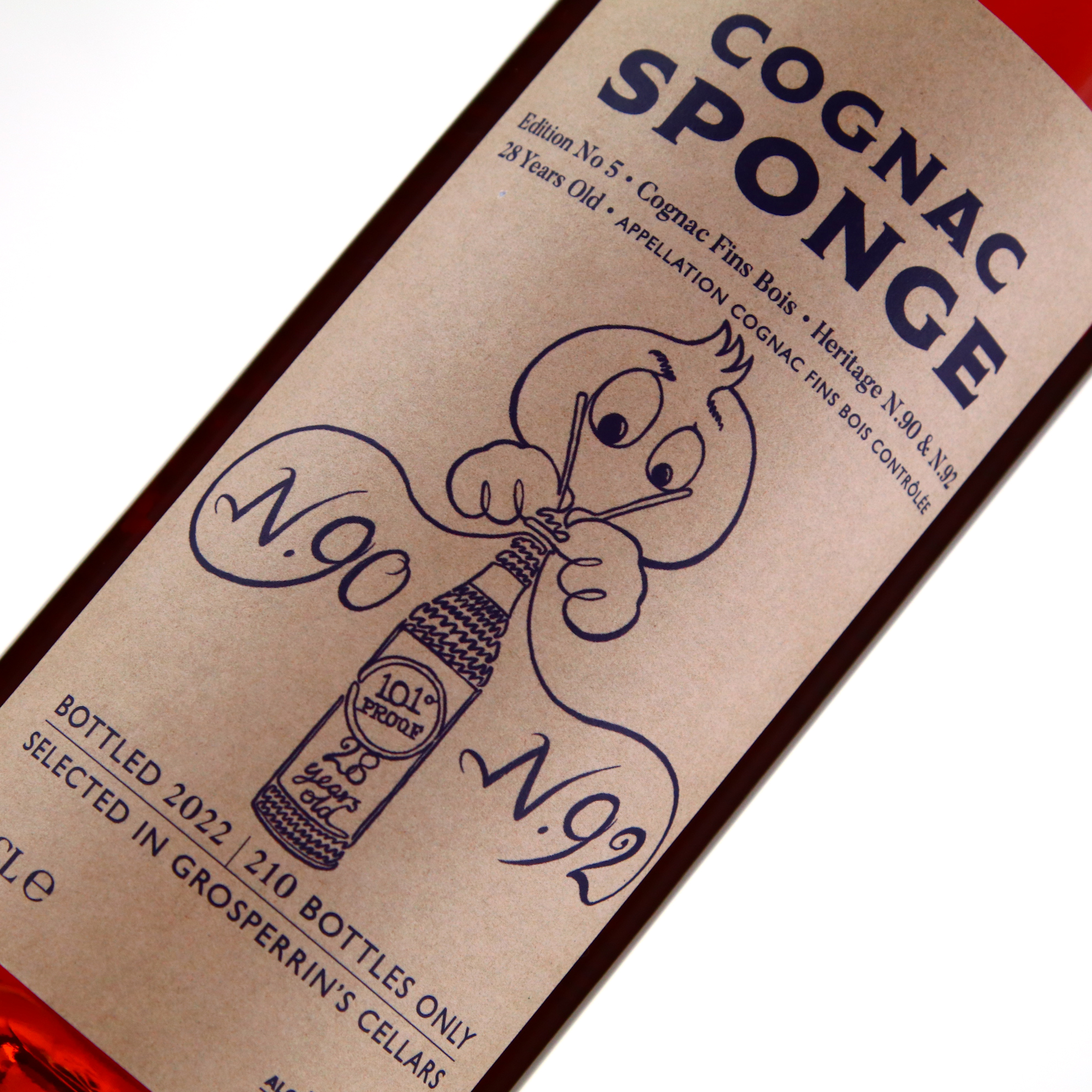 Cognac Sponge Edition No.5 is a rather gorgeous and decadent potion, concocted by the Sponge, from two casks of Fins Bois. One heritage.90 and a heritage.92. 
Eau de vie from these two casks were married, 50/50, and reduced by a few degrees to 57.7%. The result brings together such sumptuous flavours as vintage upholstery, flintlock pistol duels in the dawn light of a Parisian chateau's walled herb garden, Alexandre Dumas novels narrated in candlelight by Audrey Tautou and delicate impressions of Marxist French students skirmishing in a crowded brasserie shortly after the end of the First World War. Also sultanas. 
Please enjoy this gorgeous and decadent Fins Bois as though you were in a glamorous, politically incorrect advert for cigarettes from the 1960s. 
Delivery
Proof of Age
Please note that you must be over the age of 18 years old (or the legal age within your own country of residence) to buy Goods via the Website.
We reserve the right to ask buyers for identification to prevent fraud, underage purchases and/or any other legal or legitimate purpose.
Unfortunately for now we have had to temporarily suspend shipments to the following countries;
France
Slovakia
Hungary
Spain
Italy
Poland
Greece
Sweden
We are working on a solution to this issue and hope to have an update on this soon.
UK Delivery
Delivery starts at £10.50 for 1 bottle
All deliveries must be signed for by persons over the age of 18 and,  proof of age may be required.
Someone must be there to sign for the delivery: A signature is *always* required.
We can request (but not guarantee), that the delivery driver leave your order in a safe place or with a neighbour.  
Delivery companies may require to contact the recipient , please ensure you include your email and phone number when placing an order.
EU Delivery 
Delivery starts at £26.00 for 1 bottle
In addition to the above
All deliveries must be signed for by persons over the legal age of consent for drinking alcohol in the destination country.
Local taxation and duties may apply in your destination country.
Once your order is received, we will deliver the goods to you by courier dispatched within 3 business days.
Your rights to return goods are protected under the EU Distance Selling Directive.
Worldwide Delivery
Global delivery is available please contact us for accurate shipping quotes.
Prices are inclusive of VAT where applicable.
Terms
By placing an order via www.decadent-drinks.com you are accepting our terms as detailed below. 
Prices 
All prices are in GBP and all orders are charged in GBP. The order total – the amount you will actually be charged – will be displayed in GBP before you place your order.  
Website 
Decadent Drinks Ltd. accepts no liability arising from errors (including typographical) contained in, or any omissions from, this website.  By accessing and using the website you confirm your acceptance of these terms and conditions, which may be changed without notice. 
Prices shown on the site for any products or services offered are subject to change without notice. Any price changes will be notified and confirmed to you before dispatch to give you the opportunity to cancel your order. 
Prices shown for products on the site are not inclusive of delivery charge. 
Legal Age 
You, and the recipient in the case of a gift, must be of legal age to purchase and accept alcohol both in the country where you place the order and the destination country.  
We suggest that you check with your local authority to make sure that you will not be breaking any local laws by ordering alcohol from us.   
In the UK it is illegal for any person under the age of 18 to buy, or attempt to buy, alcohol for themselves or for any other person under the age of 18. It is also illegal for a person over the age 18 to buy, or attempt to buy, alcohol for themselves or for any other person under the age of 18 . Please be advised that the legal age varies in different countries. 
All products offered are subject to availability and we cannot guarantee availability of the products listed. 
Payment shall be taken on our behalf by Stripe Ltd. 
Delivery 
We endeavor to dispatch our goods within 5 business days from receipt of payment. 
On receipt of your goods please check the items carefully and notify us immediately of any items that are incorrect or incomplete. 
In the event of receiving damaged goods, you must notify us immediately and we may ask you to confirm the notification in writing.  Do not return the goods unless instructed by us and retain the goods and packaging until the carrier has had an opportunity to review them. 
We cannot accept any liability for delayed or non-delivery of goods due to misinformation or an incorrectly supplied delivery address or a mistake by the courier. 
If a parcel is returned to us due to an incomplete or incorrect delivery address supplied by you, the customer, we reserve the right to charge the appropriate carriage fee to re-send. 
If you do not wish the goods to be re-sent, we will, at our discretion, refund the value of the goods, but we are unable to refund the original carriage fee. 
We accept no liability for goods required for a specified date, which fail to arrive due to circumstances beyond our reasonable control. We will always do our best to achieve your deadline but please order in sufficient time for time-critical items. 
Local taxes and excise duties are the responsibility of the customer. 
We cannot be held responsible for any orders which are seized, impounded or have additional duty charged on them by Customs. 
Returns 
You are entitled to cancel your order and return the goods within 14 days from the date of delivery for a full refund, we regret we are unable to refund any carriage costs. 
Do this by contacting us by email ([email protected]) and quoting the order number supplied to you.  
Your refund will be provided within 7 days from our receipt of the returned goods. 
You are responsible for the cost and risk of loss or damage when returning the goods, so you should take out enough postal insurance to cover their value.  
This cancellation policy does not affect your rights when we are at fault - for example, if goods are faulty or incorrectly described. 
If your parcel clearly shows signs of damage or leakage at the time of delivery, it should not be accepted. Please ask the courier to return the goods to us. Photographic evidence of the parcel on delivery will be required.
Our Copyright 
All images, photographs or written material used on the www.decadent-drinks.com website may NOT be reproduced, copied, stored or used in any way whatsoever without the prior written agreement and permission.  You may download and temporarily store pages in order to view them, for your own personal non commercial use. 
Your statutory rights are not affected by any of the above. 
Products We Make 
Decadent Drinks Ltd. takes responsibility for all the products it manufactures. 
We don't claim or assert copyright or any rights of ownership over any third party trademarks or intellectual property rights which are referred to on products or in any descriptive text which relates to products either on this site or otherwise. We use factual statements to describe the source of the spirits.